Noodles
Choice of chicken, pork, tofu or veggies. Beef add $2, shrimp, squid, duck or combo add $3.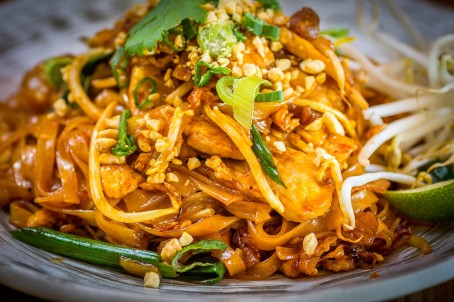 Pad Thai
Rice noodles with egg, bean sprouts, green onions and crushed peanuts.
Pad See Ew
Flat noodle, egg, Chinese broccoli, with dark soy sauce.
Lad Nah
Flat noodle, Chinese broccoli in thicken gravy sauce.
Pad Kee Mao
Flat noodle with onion bell peppers, chili and Thai basil.
Kua Kai (Chicken Noodle)
Flat noodle, chicken, bean sprout, green onion and egg in light soy sauce.
Pad Woon Sen
Glass noodle stir fry with egg, broccoli, carrot, cabbage, celery and bean sprout.